CONSULTANCY AND SIMULATION
FOR DESIGN IN
Naval Architecture, Civil Engineering
and Industrial Engineering
Compass is a consultancy services company specialized in engineering design. We provide innovative solutions for numerical analysis and simulation for engineering sectors as naval/marine, renewable energies, industrial and civil.
We make our know-how available for companies, by means of our software Tdyn. Tdyn is a unique solution which integrates different types of analyses and offers a global simulation solution for CFD, muliphysics, structural analysis and seakeeping.
The members of our team are all highly qualified professionals specialised in civil, industrial, naval and telecommunication engineering. We provide our services worldwide from our premises in Barcelona city.
Simulations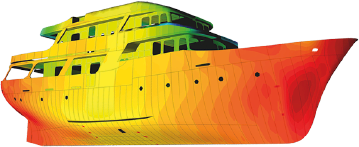 A SOLUTION FOR ALL YOUR SIMULATION AND ANALYSIS NEEDS, UNIFIED IN A UNIQUE TOOL
CONTACT
WITH US

Contact us for any enquiry:
Information about our consultancy services
Information about our software
Technical support
R&D collaborations
Interest in working with us
news and
updates
Past
COLlABORAtions