FLUIDS Dynamics simulation
CFD ANALYSIS
Tdyn Fluid Dynamics Package (Tdyn CFD+HT) offers six modules which can be integrated and coupled to achieve complex simulations.
3D FLOWS SOLVER
Features the latest technology for solving real fluid flows in 3D (transient or steady), including turbulence effects. The different fluid models allow solving the full range of fluid dynamics problems, including porous media flows.
HEAT TRANSFER
Offers an advanced solution to solve complex forced, natural, and mixed convection heat transfer in fluids and conduction in solids. Heat transfer module includes a conjugated heat transfer solver, including contact conditions with resistance effects.
TRANSPORT OF SUBSTANCES
Allows solving problems concerning the advection/diffusion of mass/species in fluids, including reactive effects. It is also able to solve species diffusion problems in solids (Fick's law).
FREE SURFACE
Iincludes two advanced algorithms for solving problems with free surface, offering the most reliable solution for every free-surface analysis.
MESH UPDATE
Offers several mesh updating strategies: prescribed and free bodies movement with automatic mesh updating, explicit mesh movement via user functions and combinations of these strategies.
CUSTOM PROBLEM SOLVER
ExtendS the capabilities of Tdyn CFD+HT by offering different utilities for creating and solving new user defined problems, described by partial differential equations (PDE).
technical features
3D, 2D and axi-symmetry FIC-FEM Reynolds equations solvers
Fluid models: fully compressible, slightly compressible, barotropic, incompressible ideal gas, ideal gas
Advanced structured and unstructures mehsers, including boundary layer mesh generation
Different RANS, ILES (IMplicit Large Eddy Simulation) and DES (Detached Eddy Simulation) turbulence models
Convetion-conduction (fluids) and conduction (soldis) heat transfer solvers
Coupled fluid-solid heat transfer (conjugate heat transfer technology)
Free surface (ODDLS and transpiration) solvers
Space varying, transient and advanced boundary conditions
Arbitrary Lagrangian-Eulerian (ALE) solver for moving meshes
Mesh updating: prescribed/free bodies movement, explicit and combinations of these strategies
Generic user-defined PDE solver
Advection/diffusion of mass/species in fluids and solids
Scripting programming interface based in TCL-Tk
Cutting-edge GPU accelerated and parallel CPU-SMP iterative solvers
LINKs
VIDEOS of
SIMULAtionS
THIS SIMULATION TECHNOLOGY CAN BE APPLIED IN THE FOLLOWING PROBLEMS, AMONG OTHERS:
Ship hulls' hidrodinamics
Performance study of oceaninc renewable energy devices
Aerodynaimcs of buildings and urban areas
Electronic devices cooling
Flow in fans, filters, coolers, and pumps
Comfort and ventilation assessment
COMPASS has developed
a complete engineering software for
solving and simulating fluid flow problems (computational fluid dynamics – cfd), porous media flow, heat transfer and multiphysics.
Leading finite calculus (FIC-FEM) solver technology.

Robust, agile and optimized algorythm.

Highly reliable and accurate.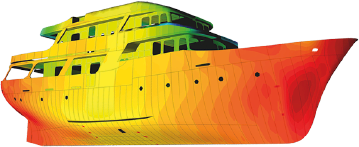 TAKE TDYN SOFTWARE TO THE LIMIT!
We offer different support possibilities so that you can extract the maximum power of Tdyn:
CONTACT
WITH COMPASS SUPPORT