tdyn RamSeries, completE finite elements environment
for structural analyses
The software includes different modules which allow to solve different structural problems
BASIC STATIC 3D FEM ANALYSIS
Features a 3D Finite Element (FEM) analysis package in linear static conditions. The advanced FEM technology provides rich functionality, allowing combination of beams, shells and solid elements, advanced constraints definition, disconnection of degrees of freedom (ball/ cylindrical-joint), flexible load definition and combination of load cases.
DYNAMIC ANALYSIS
Includes the latest technology for dynamic analysis of structures, featuring different types of dynamic analyses including step-by-step direct integration, modal/vibration and seismic analysis. The module supports static and dynamic load definition, either by analytical functions or data tables, response spectra and several modes of damping definition.
COMPOSITE MATERIALS
Offers advanced utilities to analyze structures made of beam or shell laminated composites, and provides an intuitive interface to define materials, laminate sequences and ply direction, based on geometric lines orientations or local or global frames of reference. RamSeries can manage a global database of predefined sequences and materials to be shared by a design team.
NON-LINEAR ANALYSIS
Features different material constitutive laws in order to analyze complex model behavior. Among others, it includes J2 plasticity for shell elements, including Isotropic or Kinematic hardening. The geometry can be analyzed assuming large displacements for all the element types. Contact-impact algorithms use the most advanced element to element approach. Contacts can be modelled either as frictionless or sticking.
COUPLING WITH Tdyn CFD+HT AND Tdyn SeaFEM
Offers seamless communication with Tdyn CFD+HT modules for thermo-mechanical and coupled fluid-structure analyses (aero/hydro-elasticity). Furthermore, this module features one-way and two-way interaction links to the Tdyn's seakeeping package Tdyn SeaFEM, allowing to perform the most advanced wave-structure interaction studies.
FEATURES
Fully integrated graphic user interface (GUI)
Line models: 3D beams and cables
Shell element models: 4-8 nodes quads, 6 nodes triangles, DKT, 3 nodes triangles with drilling rotation, and stiffened shells, 3-noded membrane element
3D solid elements: 4-10 nodes tetras and 8-20 nodes hexas
Advanced automatic structured and unstructured meshers
Linear statics, Dynamic, modal, seismic and direct time integration analysis
Calculation of main vibration modes for free or constrained models with participation mass assessment
Surface to surface contact-impact algorithm, featuring sticky and frictionless contacts
Nonlinear tools: large displacements, material plasticity J2 and Non linear constraints
P DELTA buckling-analysis method
Composite laminated shells and beams
Material libraries including a collection of concrete, steels and non-linear materials
Metallic profiles database and user-defined sections
Various local axes definition techniques for anisotropic and laminate composite materials including geometric line collections
Fatigue assessment (DNV-RP-C203, API RP 2A-WSD)
One-way and two-way implicit fluid-structure interaction solvers (Ransol module required), seakeeping-structure coupled solvers (SeaFEM package required) and Thermo-mechanical solver (Heatrans module required)
Cutting-edge parallel CPU-SMP direct/iterative sparse-matrix solvers
Scripting programming interface based on Tcl-Tk
links
VIDEOS of
SIMULAtionS
THIS SIMULATION TECHNOLOGY CAN BE APPLIED IN THE FOLLOWING PROBLEMS, AMONG OTHERS:
Naval and off-shore applications
Buildings and infrastructures
Aeronautical structures
Composite materials structures
Tdyn RamSeries provides the ability to simulate every structural aspect of a product, thanks to its full range of capabilities.
Includes linear statics, modal analysis, linear and non-linear transient simulations, impact, coupled fluid-structure analyses, thermo-mechanical studies, fatigue assessment and much more.
Full range of 3D element models: beams, cables, shells, membranes and solids.

Full support for nonlinear analysis.
Latest technology for solving structural dynamics analyses, including robust contact-impact algorithms.

Specific tools for marine and offshore engineering applications.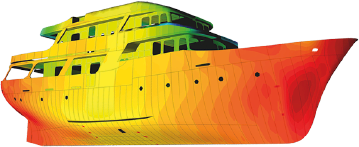 Tdyn RamSeries is part of the simulation suite Tdyn, a most complete set of tools for simulation and analysis which allows to give answer to almost any multiphysics simulation needs in engineering.
TAKE TDYN SOFTWARE TO THE LIMIT!
We offer different support possibilities so that you can extract the maximum power of Tdyn: