Virtual wind tunnel and aerodynamics
CFD analysis
COMPASS has implemented a complete tool and service for the design, verification and optimization of constructive projects, incorporating Industry 4.0 computational technology.
Based in Tdyn CFD+HT, the Leading CFD solver technology.
Robust, agile and optimized algorythm.
Highly reliable and accurate.
Tdyn WindLab, the key simulation tool and service for Architects and Engineers
3D VIRTUAL PROTOTYPING
Digital prototypes for fluid-dynamic simulations (CFD), structural verifications (Finite Element Method), and coupled fluid-structure interaction analyses (FSI).
REALISTICOS SCENARIOS
Integration of the 3D environment surrounding the design, providing fully realistic scenario simulations.
WIND SCENARIOS CUSTOMIZATION
Full capability for customized wind profile definition.
STRUCTURAL OPTIMIZATION
Obtention of real pressure distributions over the model, allowing structural optimization and enhancement of building design.
URBAN COMFORT MAPS
Analysis of external 3D fluid flows around buildings, including velocity field maps to improve designs and allow detection of high vortex shedding zones. Obtention of comfort maps related to flow-generated noise  (aeroacoustic effects).
CONTAMINANT PROPAGATION
Contaminants propagation studies in urban zones.
technical FEATURES
3D, 2D and axi-symmetry FIC-FEM Reynolds equations solvers
Fluid models: fully compressible, slightly compressible, barotropic, incompressible ideal gas, ideal gas
Advanced structured and unstructures mehsers, including boundary layer mesh generation
Different RANS, ILES (IMplicit Large Eddy Simulation) and DES (Detached Eddy Simulation) turbulence models
Convetion-conduction (fluids) and conduction (soldis) heat transfer solvers
Coupled fluid-solid heat transfer (conjugate heat transfer technology)
Free surface (ODDLS and transpiration) solvers
Space varying, transient and advanced boundary conditions
Arbitrary Lagrangian-Eulerian (ALE) solver for moving meshes
Mesh updating: prescribed/free bodies movement, explicit and combinations of these strategies
Generic user-defined PDE solver
Advection/diffusion of mass/species in fluids and solids
Scripting programming interface based in TCL-Tk
Cutting-edge GPU accelerated and parallel CPU-SMP iterative solvers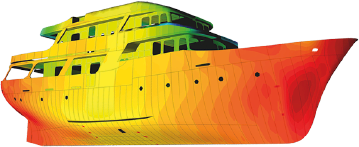 TAKE TDYN SOFTWARE TO THE LIMIT!
We offer different support possibilities so that you can extract the maximum power of Tdyn::
CONTACT
WITH COMPASS SUPPORT